John Taylor: The Family Man and Teacher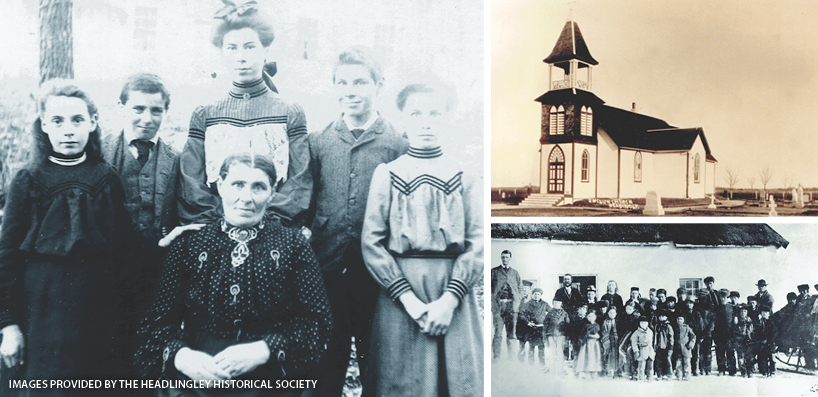 The Family Man
John Taylor was born on January 24, 1834 to James Taylor of the Hudson's Bay Company and Mary Inkster, daughter of chief factor James Inkster of Brandon House. His upbringing was happy by all accounts, and he passed on the same convivial, loving home to his family that included 22 children — eight with Flora Campbell whom he wed in 1856 and who died in 1872, and 14 with Frances James Brown who he married in 1873. His good nature spread from his family to the Headingley community and the Taylor home was a frequent gathering place, especially after church on Sundays.
It was in 1856, the year of his first marriage that he bought his original piece of land in Headingley along the banks of the Assiniboine River. He continued to amass more and more land for his crops and livestock over the years, as his family grew and his interests expanded to include education, religion, politics, real estate and commerce.
Taylor's legacy is large, from his number of descendants — many who continue to farm the land and live in the area — to his lasting contributions to Headingley, Manitoba's agriculture scene, and now the burgeoning Taylor Farm community.
The Teacher
John Taylor already had some teaching experience when he was appointed in 1855 by Bishop Anderson to the Parish School at Headingley. He had previously taught at a mission school at Oxford House and at another post in Norway House.

He was a protégé of the Bishop having attended St. John's College, where he graduated with a teacher's certificate at the age of 18. Prior to that he was educated at the parish school in St. Paul's parish.
The first schoolhouse in Headingley was in the Holy Trinity Church, which was completed only a year earlier. It was written that, "The new church/schoolhouse gave the community a sense of permanency and also attracted a man who would become its most influential citizen — John Taylor." *
Taylor taught in the Headingley District until 1856. This was the year he married Flora Campbell and acquired his original piece of land also along the banks of the Assiniboine River.
The school in Holy Trinity Church became Headingley's first public school in 1890. In 1909, at a cost of over $5,000, a lofty new four-room structure was built on what was then Lot 54, south of Holy Trinity cemetery. In 1910, south Headingley built the Phoenix school on Alboro Street. It expanded from two rooms in 1920 to three rooms in 1938.
Taylor never seemed to forget that his job as a teacher went far beyond the confines of the classroom. These were places where the community gathered for church, counsel and socializing.
* Headingley - Pioneers Past & Present, by Murray Peterson and Georgia Anderson Taillieu.