Lighting up the holidays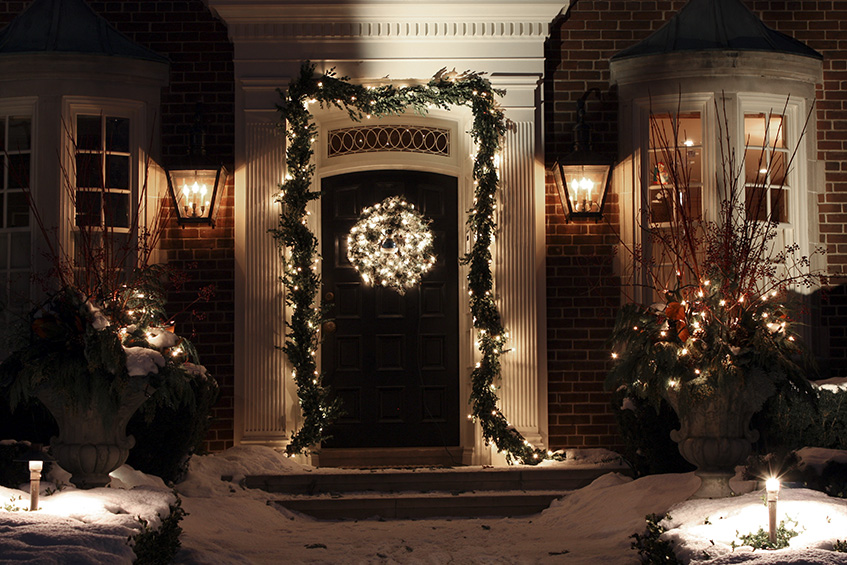 With the holiday season upon us many people are getting out their ladders and extension cords and turning the exterior of their homes into a winter wonderland. While you may be inspired to do the same, before you begin, it's best to develop a plan instead of winging it. This will save you time without the hassle of redoing portions because the plugs won't line-up correctly or noticing that there isn't enough string to cover the entire house. Not to mention, the quicker you put them up, the less time you'll be out in the cold and the sooner you'll be sipping eggnog while admiring your handiwork.
Focal point
The first step in creating a game plan is to pick a focal point and start from there. This could be an area such as the entryway or a cluster of trees in the yard. Without a main focal point, it's easy to get carried away and clutter your yard with too many lights.
Surfaces
Scope-out your home to consider what types of surfaces are available. It's a good idea to take a look at your gutter thickness and shingle flexibility to determine what clips will work best to hang lights along the roofline. Other popular areas include railings, pillars, windows and door frames, along pathways as well as, atop bushes and trees.
Measurements
Once you have an idea of where you want the lights, start measuring the distance from the power source to the areas that you want to decorate. This will determine how many strands of lights you'll need.
Check your inventory
If you have existing lights, check for any burnt out bulbs and frays in the cord. Bulbs can be replaced but if the cord is damaged, throw it away to prevent safety hazards. Consider how many clips you have and what types you'll need.
Safety
Make sure that your power is coming from a ground fault circuit interrupter (GFCI) outlet. This will ensure that the circuit will shut down if there is an overcurrent. If your home doesn't have a GFCI outlet an electrician can permanently install one or portable versions can easily be found online or in home improvement stores.

Be sure to also use an outdoor extension cord with a guarantee from an independent testing agency, such as Underwriters Laboratories (UL mark), Intertek (ETL mark) or the Canadian Standards Association (CSA mark), which ensures that the extension cord is safe.

Avoid placing cords in high-traffic areas to prevent walking hazards. In addition to this, always have a partner nearby to keep the ladder sturdy while distributing lights.
Making your house merry
There are numerous types of lights and colours to choose from. A good rule of thumb is to group the same types of lights together. For example, use white lights on your home while using coloured lights in the trees.

Remember, not all white lights have the same hue. Cool white lights have a blueish tinge while warm white lights take on a yellow tone. Try not to mix cool and warm white lights together as it will look mismatched.

LED lights are becoming the norm as they are energy efficient and don't overheat. They come in a variety of shapes, sizes and colours that are available in strands, icicles, shimmer spheres, nets and more.

Once you have your holiday lights up, go for an outing to admire other nearby displays including the show home lights on Bresaylor Drive and Ammeter Bay.