Lower Taxes Means You Get More in Taylor Farm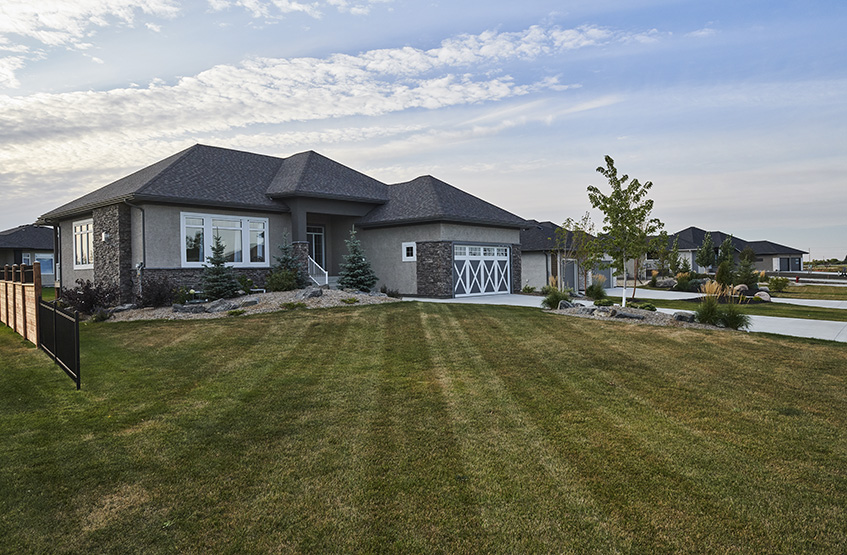 Homeowners who are feeling maxed and taxed out in Winnipeg have some attractive options available to them in Taylor Farm. This new Qualico community is ideally located along the shores of the Assiniboine River outside the city limits in Headingley. Residents can enjoy the ease and beauty of country living while still being close to all the amenities of the city just a few minutes away.
Being in the RM of Headingly means lower taxes– for both homeowners and those looking to establish a business in the community.
Mill rates comparison
Winnipeg homeowners pay combined mill rates1 of between $25 per $1,000 of assessed home value in Pembina Trails School Division, to almost $28 per $1000 in Winnipeg School Division, and just over $29 per $1000 in Seven Oaks School Division.
In Taylor Farm, residents pay combined rates of between $19/1000 and just under $23/1000.
What that means for a $600,000 home
Based on 2017-2018 rates, a $600,000 home in a new community in Winnipeg would set you back nearly $6,900 in annual property taxes, while a similarly-valued home in Taylor Farm would cost less than $5,200 in annual taxes. That's a $1,700 a year! Put down roots in Taylor Farm and you could save $42,000 in taxes across a 25-year mortgage.
Think about what you can do with that extra $1,700 a year. You could pay down your mortgage faster and compound the savings by paying less interest over time or enhance the features and finishes in your new home to make it even more than you had ever hoped for.
The impact of Winnipeg Impact Fees
Not only do Taylor Farm residents save on their taxes - they also don't have to pay the impact fees that are now standard on new builds in new communities within the city of Winnipeg – which can be upward of $10,000 on a $600,000 home.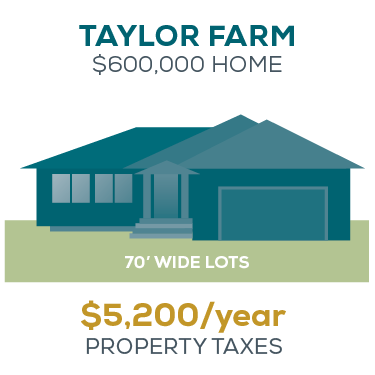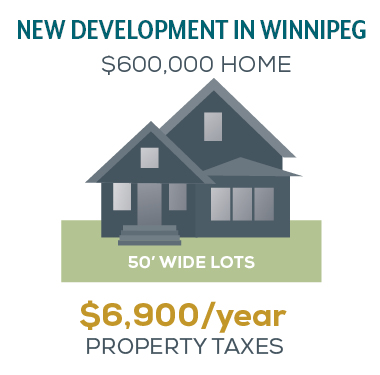 That's a $52,000* savings across a 25-year mortgage!
*including $10,000 impact fee for City of Winnipeg properties in new communities (first year only)
You really are getting more for your money in Taylor Farm where lots start at 70 ft. wide compared to standard custom home lots in new developments in Winnipeg, which are 50 - 58 ft.
Same services for less money
It's important to note that even with these savings, there is virtually no difference in the municipal services available to residents in Headingley compared to the City of Winnipeg. Homes in Taylor Farm are fully serviced and the Rural Municipality of Headingley provides a full range of municipal services including waste and recycling collection, sewer and water collection and treatment, mosquito control, animal control and even weed control services.2
Come home to Taylor Farm, where you can have more. Enjoy all the appealing features of upstream, rural living just minutes from the City of Winnipeg.
---
1 The city of Winnipeg property taxes are calculated by applying municipal and school mill rates against the portioned assessment of your property. A mill is a one-thousandth part. For calculating taxes, one mill represents $1.00 of taxes for every $1,000.00 of portioned assessment. Learn more at www.winnipegassessment.com
2 Learn more at http://www.rmofheadingley.ca/p/municipal-services