RM of Headingley App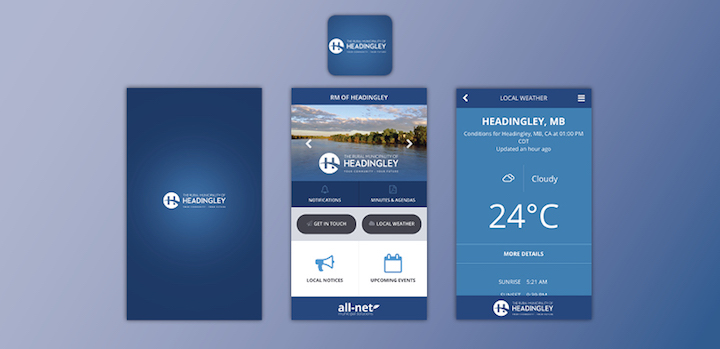 The RM of Headingley has a handy must-have app for all residents in the area. Found in the Play Store and Apple Store under 'RM of Headingley', this free app offers a handful of features to help people navigate life in the area. It's directory is full of local businesses and industries, the weather read-out gives you accurate information, and not just the temperature in downtown Winnipeg or at the airport. There are numerous uses for the app.
Municipality Information
Get in Touch: This section shows the address, phone numbers and email of the RM council. There are also quick buttons for calling or emailing. If you have an issue the RM would take care of, or perhaps you need to get permission RM for a project, this is the best way to find their contact information.
Minutes & Agendas: Here you can find all the minutes and agendas for the Council of the RM of Headingley. These minutes are kept up-to-date and offer full access to all the details one might need. Agendas are posted shortly after each meeting.
Important Notices
Notifications: A timeline of extremely important messages to the community, for example, burning bans or other emergencies. These messages will push a notification to your phone to ensure you are not left in the dark.
Local Notices: Community notices not of an urgent nature are found here. These messages are useful to residents providing you with information such as curb side collection notices, public hearing dates and more.
Upcoming Events: A straight-forward section for approaching important dates in the RM.
Community Info
Local Weather: This sections offers hourly updates to the weather in Headingley. This readout is from the area and not from Winnipeg. You can also find a five day forecast here.
Business Directory: This in-depth directory is an excellent resource to find the place you are looking for. With all businesses divided into categories, like agricultural, automotive and Christmas tree sales, it's easy to get your hands on the information you need.
Local Maps: For a map of Headingley, this is the quickest route on your phone. No typing or searching necessary. Using Google Maps, it makes sure finding directions to where you need to go are easy.