Taylor Farm's public art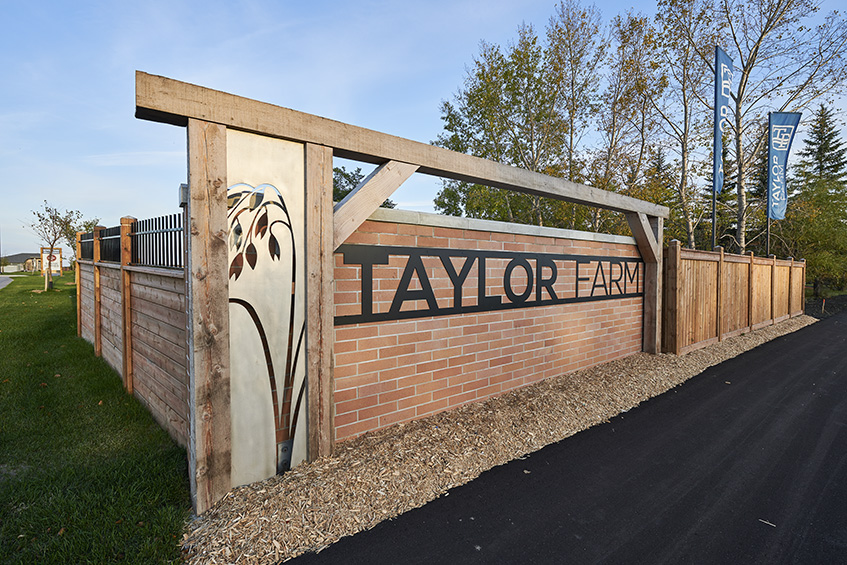 Public art is interwoven throughout Taylor Farm to create a lasting impact to both its visitors and residents. It will be used to enrich the streetscapes and is a powerful tool that can make a space exciting by creating new experiences.
With multi-functionality, spaces with public art can encourage people to connect with their neighbours and engage with their environment. Similarly, public art can boost your mood and inspire creativity.
Public art is a way for artists to share stories, history or to raise awareness. Additionally, public art enhances our community by serving as distinctive landmarks which cultivate an identity.
The public art in Taylor Farm will encompass a variety of these benefits. They will focus on the history of John Taylor, a local man whose life had an incredible impact on the surrounding area over the past century.
Entry features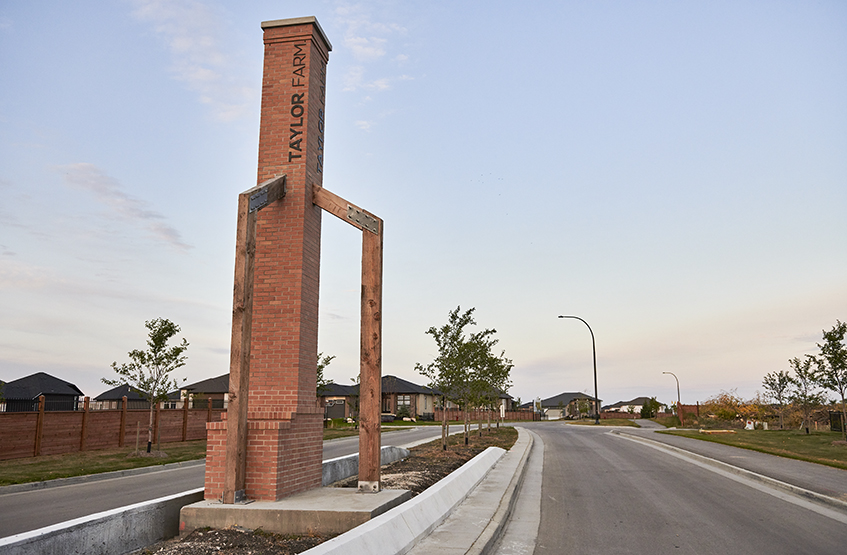 Taylor Farm's magnificent entrance into the community is a large masonry wall that showcases mounted stainless steel letters of the Taylor Farm name. Next to this is a stainless steel panel featuring a laser cut oat sheaf that is enclosed by a fir timber frame. Beside the entry wall is wood fencing and landscaping that wraps around Bridge Road to create a striking landmark.
Coming onto Taylor Farm Road is a large monolithic tower that has been designed to pay homage to the homestead that once stood there. The red brick and mortar chimney flanked by fir timbers are reflective of the rafters and posts which would have been the framework of the home. Mounted onto the chimney is the Taylor Farm name in stainless steel letterings which welcomes residents into this impressive community.
Original cairns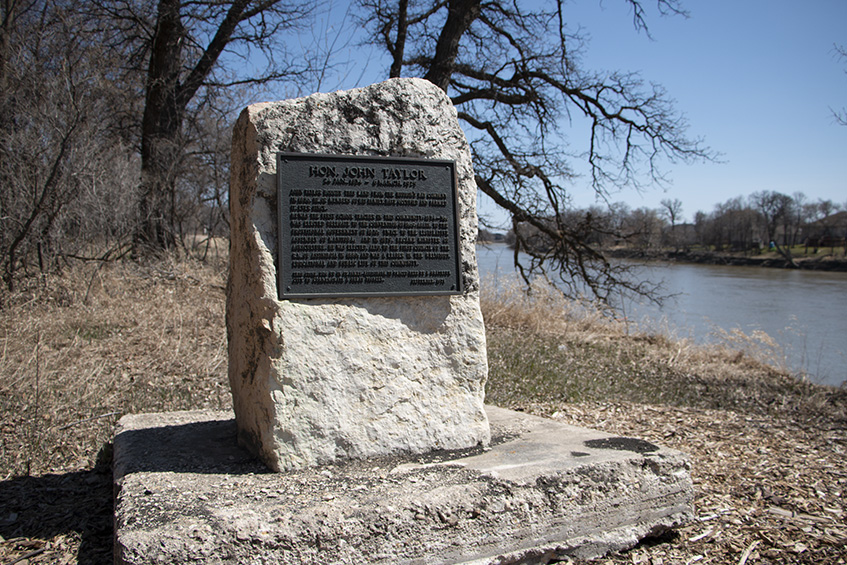 Before Taylor Farm became a community, three cairns resided on the property. These historical remnants have been preserved to serve as monuments for John Taylor, the Headingley School and Holy Trinity Cemetery. The John Taylor cairn has been relocated to Montgomery Park while the Headingley School and Holy Trinity Cemetery cairns can be found in their original locations near Bresaylor Road.
Informational art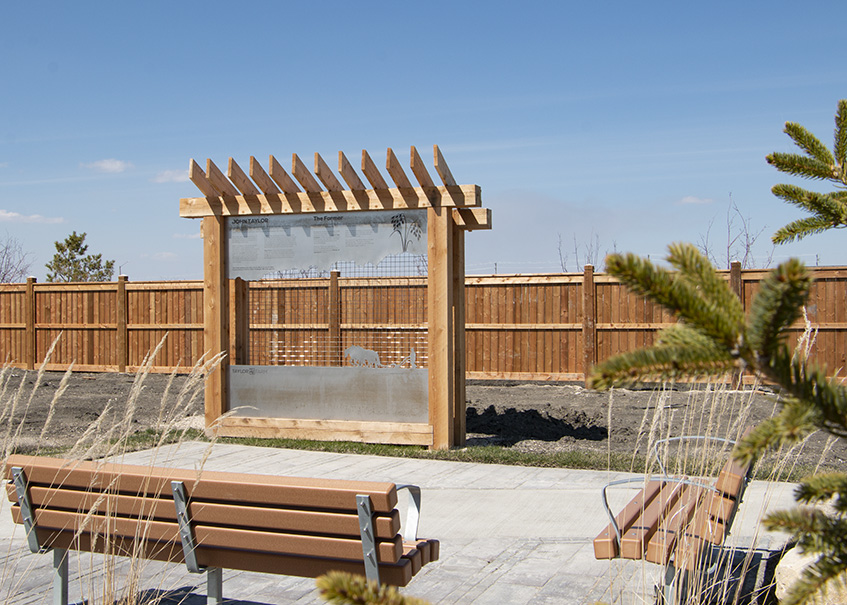 Nodes will be located in key areas of the Taylor Farm subdivision to tell the story of John Taylor. They will consist of either a viewshed to display Taylor Farm's beautiful landscapes such as the basswood forest and naturalized wetlands, or in the form of a landscaped sitting area.
Each node will provide a stainless steel information panel that will discuss aspects of John Taylor's life. These panels will be framed in fir timbers and include a stainless steel mesh backing to allow vines to grow behind the information; mixing history and the present into one element. Currently there is one node in Taylor Farm in the form of an informational panel.
Interpretive art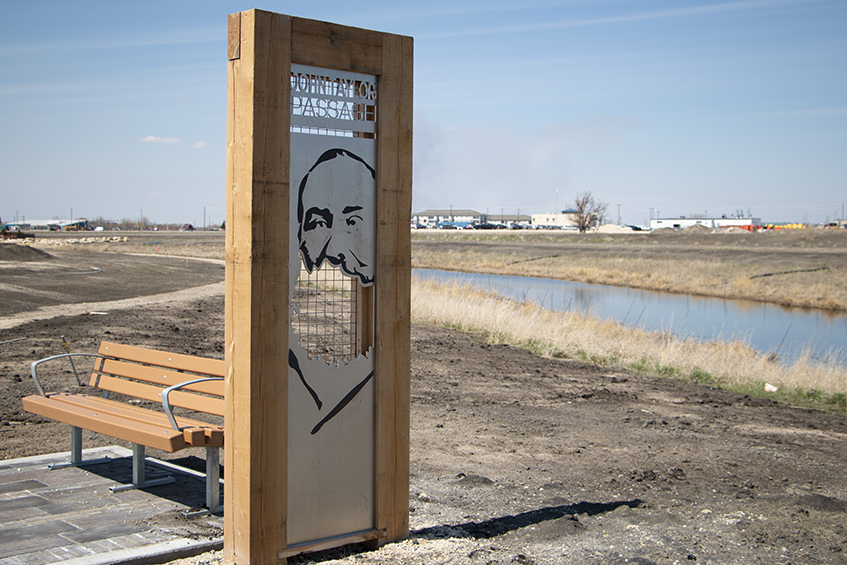 All of the interpretive pieces in Taylor Farm use a similar style as the nodes but on a smaller scale; with panels cut from stainless steel that are encased in a fir timber frame.
The park entry markers will bear the face of John Taylor and also include mesh backing to allow vines to intertwine into each piece. Currently, there is one entrance feature on Taylor Farm Road.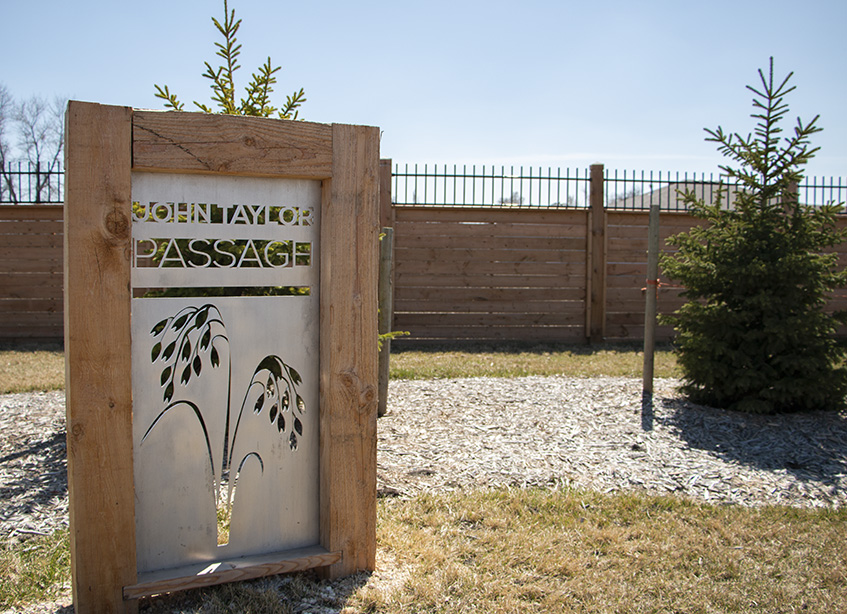 Trail markers will be found throughout the trails in the community to depict historical imagery of the area and John Taylor's life. Currently, two trail markers reside on each side of the nature trail that crosses Taylor Farm Road.
The next time you're in Taylor Farm, be sure to take a moment to appreciate your surroundings whether it's by taking a deep breath of fresh air, listening to the songbirds along the trails and naturalized wetlands or admiring a piece of art in the community.